Après avoir profité d'une belle saison de ski à COURCHEVEL, peut-être rêvez-vous de plages et de chaleur ? OCEAN PURE CHARTER vous propose d'explorer l'archipel indonésien, les Caraïbes ou la Méditerranée à bord de deux yachts de luxe : OCEAN PURE 1 et OCEAN PURE 2.
After enjoy the best ski in COURCHEVEL, maybe you would like beaches and heat ? OCEAN PURE CHARTER propose to explore the amazing Indonesian archipelago, the Caribbean or the Mediterranean on board of 2 luxury yachts : OCÉAN PURE 1 and OCEAN PURE 2.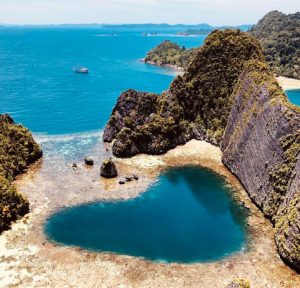 BIENVENUE À BORD D'OCEAN PURE 1
Ce yacht indonésien typique de 46 m de long est le meilleur moyen de découvrir l'Indonésie, avec ses plus de 17 000 îles, et d'en profiter pleinement.
This typical Indonesian yacht of 46 meters is the best way to discover Indonesia with more than 17 000 islands and enjoy the full experience.
WELCOME ABOARD OCEAN PURE 1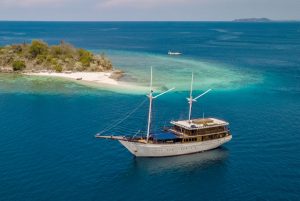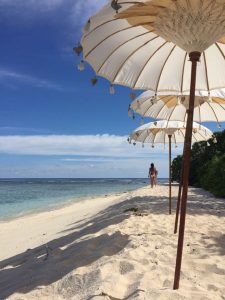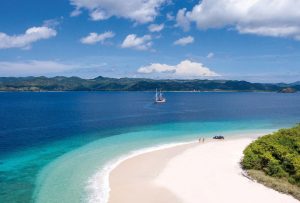 PURE DISCOVERY
Vous trouverez dans toute la région des plages paradisiaques et sauvages de sable fin à explorer, ainsi que des volcans à gravir, des forêts tropicales à parcourir, des dragons de Komodo à approcher, des villages traditionnels et des temples anciens à visiter, des tribus amicales à rencontrer, etc. Chaque jour offre la promesse d'une expérience unique et inoubliable !
The entire region is filled with picture-postcard, sandy, secluded wild beaches waiting to be explored, as well as volcanoes to climb, tropical rainforest to trek through, prehistoric dragons to walk with, traditional villages and ancient temples to visit, friendly tribes to meet, and the beauty of nature and its wildlife to admire. Every day promises something remarkable and unique !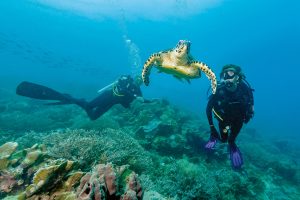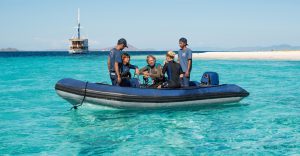 PURE DIVING
L'exploration se poursuit en plongée. Les eaux indonésiennes sont considérées comme l'épicentre de la biodiversité marine mondiale. Ses centaines de récifs coralliens uniques et colorés, ses eaux chaudes, sa faune et sa flore exotiques et tropicales en font un paradis pour les amateurs de plongée et de snorkeling de tous niveaux. À bord du yacht, votre propre dive master est à votre disposition pour vous faire vivre les aventures les plus incroyables !
And don t forget the diving,The waters of Indonesia are an epicentre of biodiversity offering the world's most varied concentration of marine life. With hundreds of unique, colourful coral reefs, warm water and exotic, tropical marine life, it's a paradise for divers and snorkelers of all levels. Your very own dive master is stationed aboard the yacht, ready to take you on the most incredible adventures.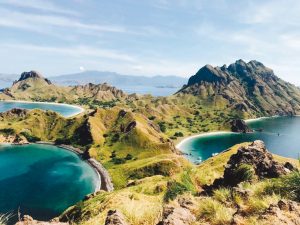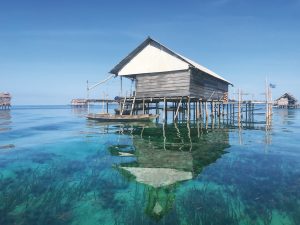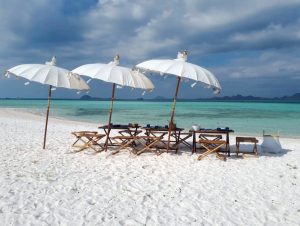 OCEAN PURE propose plusieurs destinations à différentes périodes de l'année, afin d'être toujours au bon endroit au bon moment : LOMBOK, LES ÎLES GILI ET KOMODO de mars à septembre ; L'ARCHIPEL D'ALOR de septembre à décembre ; CÉLÈBES ET SES ÎLES ENVIRONNANTES d'avril à octobre ; LES ÎLES MOLUQUES ET BANDA d'octobre à avril ; LA PAPOUASIE ET LES ÎLES RAJA AMPAT de novembre à avril.
OCEAN PURE offers six destinations at different times of the year, ensuring you're always in the right place at the right time : LOMBOK, GILI ISLANDS and KOMODO ISLANDS from March until September, THE ALOR ARCHIPELAGO from September to December, SULAWESI AND ITS SURROUNDING ISLANDS from April to October THE MALUKU AND BANDA ISLANDS from October until April , PAPUA AND THE RAJA AMPAT ISLANDS from November until April.
PURE YACHT
Avec ses six cabines et ses trois ponts, OCEAN PURE dispose d'un incroyable espace de vie pouvant accueillir jusqu'à douze invités ! Sur le pont supérieur : une immense terrasse avec sunbed pour profiter du soleil, ainsi qu'une suite master avec terrasse offrant une vue à 180 degrés ! Sur le pont principal : caractéristique unique de ce yacht, deux salles de séjour dans une ! Deux grandes baies vitrées coulissantes vous permettent d'ouvrir le salon et la salle à manger sur le pont avant. Vous pouvez choisir de profiter d'un espace intérieur ou extérieur avec près de 180 m² de surface de pont, ou de fermer les baies pour profiter du salon/salle à manger et du bar climatisés de 80 m², avec de superbes vues à 180 degrés grâce à la vue panoramique des fenêtres. Sur ce pont, une extraodinaire VIP suite avec terrasse et baies vitrés pour apprecier lac vue panoramique toute la journée. Sur le 3e pont : quatre cabines doubles de 20 m² chacune avec dressing, douche et toilettes séparés. Avec une ambiance résolument chic, son design intérieur offre le luxe, la magie et le charme de l'Asie. Les propriétaires — une célèbre designer et un hôtelier — ont réussi à combiner l'art de vivre à la française avec une hospitalité indonésienne.
With 6 cabins, OCEAN PURE welcome 12 guest and with her 3 decks, she offers an extraordinary space of life : On the upper deck, a huge terrace with sunbeds to enjoy the sun and a master suite with a 180 degree views ! On the main deck, The yacht's unique features include 2 living rooms in 1 ! Two vast sliding bay windows mean you can open the living and dining rooms onto the outside front deck.You can choose to enjoy either a combined inner- and outer-space of almost 180m², or close the windows to take advantage of the air-conditioned living/dining room and bar spanning 80m², with stunning 180-degree views thanks to the panoramic and bay windows. On this deck, an extraodinary VIP suite with a terrace and bay windows to enjoy the panoramic view all day long. On the 3rd deck, You will be suitably impressed with the 4 well appointed double cabins, 20m² each with separed dressing, showers and toilets. With a staunchly yacht-chic ambiance, the interior design offers luxury, magic and charms of Asia. The owners – a famous designer and a hotel owner – have successfully blended true French art de vivre with renowned Indonesian hospitality.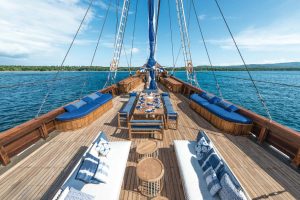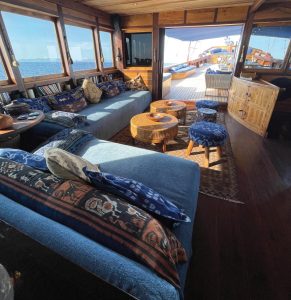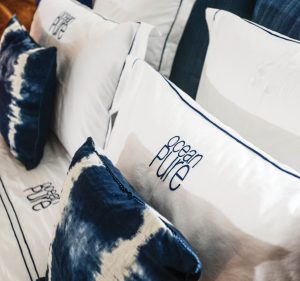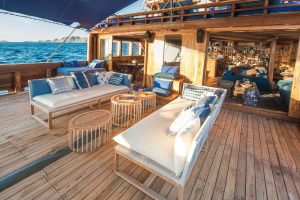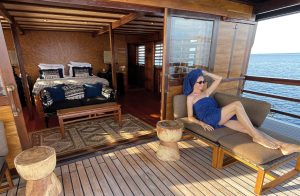 PURE RELAXATION
Vivez de véritables vacances de luxe grâce à l'équipage de 18 personnes ! Les majordomes, le chef cuisinier, le housekeeping, les marins, le capitaine, le dive master, le masseuse et le directeur de croisière se tiennent à votre disposition 24 heures sur 24, 7 jours sur 7. Et chaque membre de l'équipage fait preuve d'une capacité naturelle à fournir le meilleur service tout en ayant un sourire authentique. La magie typique de l'Indonésie ! Un chef talentueux formé dans les meilleurs restaurant de Bali et son assistant se tiennent à votre service, prêts à vous faire découvrir toutes les saveurs et la variété de la cuisine asiatique. Le must : un déjeuner pique-nique sur une plage de sable blanc à l'ombre des palmiers, ou un barbecue le soir en regardant le coucher de soleil sur une île déserte. Tout est possible, l'équipage s'occupe de tout, de A à Z… Le paradis !
Get ready for a real holiday experience thanks to the 18 member crew. True luxury! Butlers, chef, housekeeping staff, sailors, the captain, the dive master, the massage therapist and the cruise manager are all at your service, 24/7. Each crewmember is always on-hand when you need them, and they all have a natural ability to provide the best service with a genuine smile. The trademark magic of Indonesia! A talented chef training in the best restarent of Bali and him assistant are at your service, ready to introduce you to the full flavours and variety of Asian cuisine. The must: a picnic for lunch on a white sandy beach in the shade of the palm trees, or an evening BBQ while watching the sunset on a deserted island. Everything is possible, and the staff will take care of your needs from start to finish ! The paradise !
OCEAN PURE 2 L'ULTIME COMBINAISON D'ÉLÉGANCE, DE PERFORMANCE, DE NAVIGATION ET DE LUXE.
Pour découvrir les plus belles îles des Caraïbes cet hiver, entre Saint-Barthélemy, Antigua et Moustique, ou pour naviguer en Méditerranée et profiter des célèbres endroits comme Saint-Tropez, Monaco, la Sardaigne, Ibiza, Mykonos ou Capri, louez OCEAN PURE 2 !
To discover the best islands in Caribbean this winter between Saint Barthélémy, Antigua and Mustique or to cruise in Mediterranean to enjoy the famous place of Saint Tropez, Monaco, Sardinia, Ibiza, Mykonos or Capri… you should rent OCEAN PURE 2 !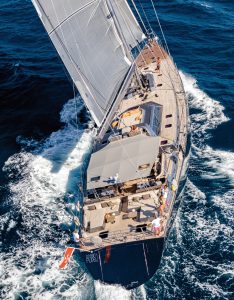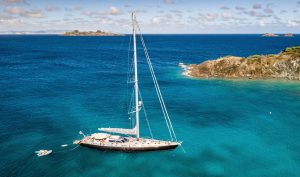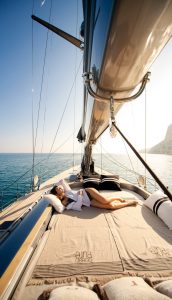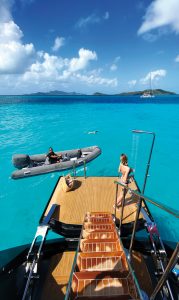 PURE FUN
Avec ses nombreux équipements nautiques ainsi que ses deux nouveaux tenders stockés dans son garage, OCEAN PURE 2 vous offre de nombreuses perspectives de divertissement tout au long de la journée depuis sa grande plateforme, facilitant l'accès pour la baignade et autres sports nautiques : kayak, paddles, planche de surf et foil électriques, skis nautiques, planche de surf, matériel de plongée sous-marine avec compresseur, matériel de snorkelling et de pêche… Et bien sûr, un équipage de six professionnels se tient à votre disposition pour votre bien-être !
Definitely, you will enjoy all the day long on board of OCEAN PURE 2 who also carries an impressive collection of water toys in her garage along with her two brand new tenders. From her large swim platform, which offers easy access for swimming, enjoy a wide range of water sports: kayak, paddles, electric surf and foil board, Water ski, Surfboard, Dive centre with compressor, Snorkelling & Fishing equipments… And of course, Believe us, The 6 professional crew At your disposition for your well being do their best for you !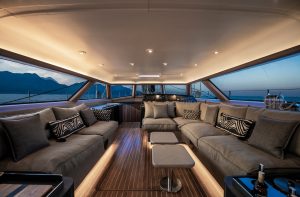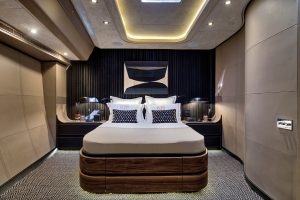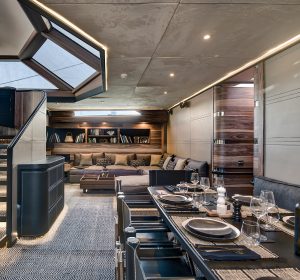 PURE YACHT
OCEAN PURE 2 présente tous les avantages d'un superyacht. Luxueux et confortable tout en étant sportif, rapide et sécurisé, il est le choix parfait pour ceux qui rêvent d'aventure en croisière à la voile sans faire de compromis sur l'espace, le confort, le design, la sécurité et les services. Grâce à ses trois niveaux, il offre de multiples aires de détente et de divertissement, autant à l'intérieur qu'à l'extérieur : trois salons, deux salles à manger, deux terrasses… parfaits pour sociabiliser et se détendre. Avec ses cinq suites très contemporaines, élégantes, chics et lumineuses, OCEAN PURE 2 peut accueillir jusqu'à 11 invités.
She has all the perks of a superyacht. Luxurious and comfortable but sporty; secure and fast, she is definitely the best choice for those who want the adventure of a sailing cruise without any compromise on space, comfort, design, safety and service. Thanks to its three deck levels, she offers multiple lounging and entertaining areas both inside and outside : 3 salons, 2 dining areas, 2 sundecks, perfect for socializing or for some relaxing. OCEAN PURE 2 welcomes 11 guest with her 5 state rooms very contemporary, elegant, chic and bright.
PURE DESIGN
Avec une ambiance résolument chic, le design extérieur et intérieur sophistiqué présente un esprit sportif et masculin, toujours élégant, reposant et très confortable. Les nouveaux propriétaires — une célèbre designer française et un hôtelier — ont terminé la rénovation complète de l'extérieur et de l'intérieur en 2020. Ils ont réussi à allier le véritable art de vivre français avec la tradition maritime.
With a staunchly yacht-chic ambiance, the sophisticated exterior & interior design offer a sporty and masculine spirit, always elegant, restful and very comfortable.The new owners, a famous French designer and hotel chain developers, just accomplished the complete exterior and interior refit in 2020. They have successfully blended true French 'art-de-vivre' with sailing tradition.
+ d'infos :
info@oceanpurecharter.com
www.oceanpurecharter.com